GRIMA + KANONENFIEBER // REVOLVER
EVENEMENTGEGEVENS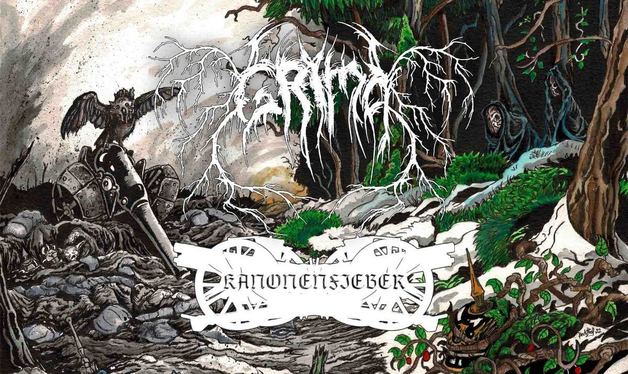 Asgaardian Events present:
GRIMA + KANONENFIEBER TOUR
***
Grima (Atmospheric Black Metal
A duo from the dark woods of Siberia, founded by Velhelm and Morbius.
It has existed since 2014 as a studio-only project, with a pagan ethos "based on the worship of the elder forest, its power and magic, where the Grima is a supreme god… a powerful spirit, who protects only those who live in a forest, and punishes everyone who does not respect nature".
Modernized war is devastating, not only for the human beings but also for the earth. It brings death and decay to everything our cult cherishes, leaving bruises and permanent scars on earth's body. Putting our sacred temple on fire.
Grima, our almighty god, weeps in the sight of all the destruction unholy beings have brought upon us. But no one can hear our lamentations, as we speak a long forgotten tongue. For this reason we are pleased to announce a "Frostbitten" journey through the mainland with our friends whom we met last summer who share our conviction but in a different and more direct approach. Please cheer for the human mill and German anti-war blackened death metal outfit Kanonenfieber.
POLITICAL STANCE: The artist publicly denounced Russian war crimes held on Ukrainian soil. During our past tour we raised over 1.600€ which we donated to Caritas International - Nothilfe Ukraine-Krieg, to support Ukrainian war victims and to a few local Ukrainian artists who had to cancel their touring plans due to the war.
***
Kanonenfieber (Anti-War Blackened Death Metal)
KANONENFIEBER The biggest German metal newcomer band 2021, founded as a one-man project in Bamberg & cast from steel and lead. Kanonenfieber & it's fantastic first debut "Menschenmühle" conquered the live stages with successful sold-out headliner shows up to 550 capacity and festivals.
With a unique concept, far from glorifying war and industrialized dying, the band goes to the archives for the songs and in long-forgotten correspondence between warriors and homeland, to give a face to the nameless horror. Each song is lyrically based on real stories and has a personal touch provided to make the madness tangible
CC: 250 kr + avgift
Doors: 19:00
ID: 20
Beperkingen
ID: 20
Vi følger alltid gjeldende covid-19 restriksjoner.